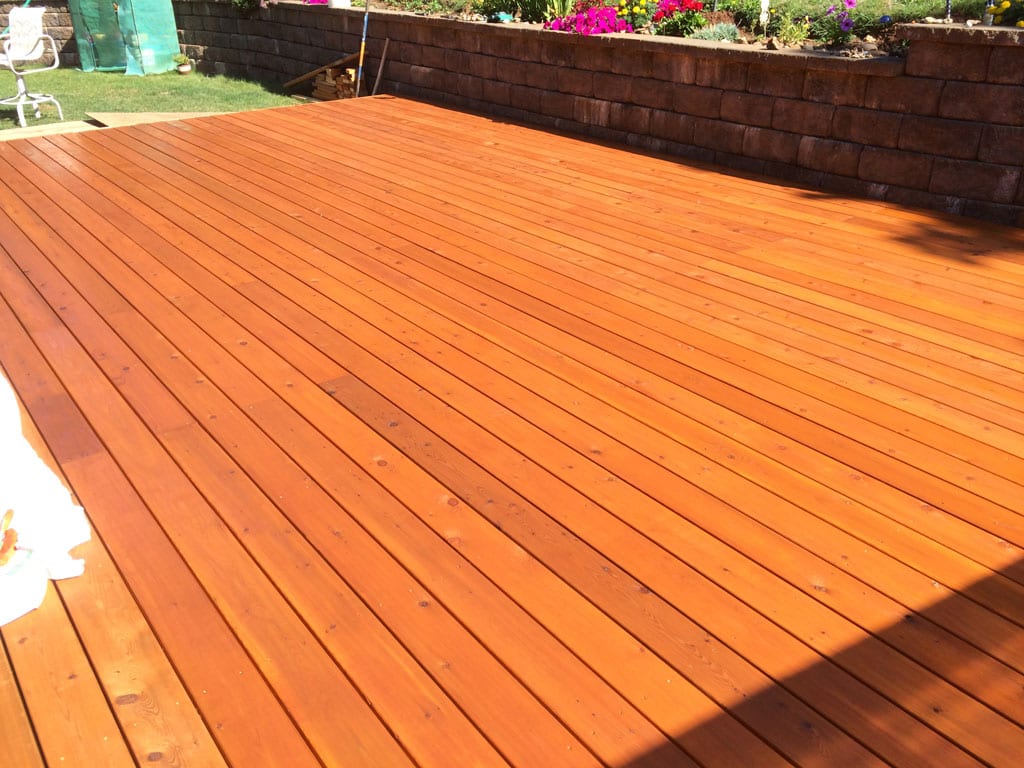 In western Oregon, we have some of the harshest weather for decks and railings. Water sits on the decks for a good part of the year. Spring and fall, it rains, the sun comes out and bakes the moisture off the wood. Of course, summer time just cooks your deck. There is constant expanding and contracting of wood .A good application of stain prevents the wood from absorbing water and protects the wood from harmful effects of UV rays from the sun.
Top Dawg uses the very finest top quality oil base clear, semi-transparent or semi -solid stain made by Cabots, Sherwin Williams or Sikkens. Exterior wood decks are one of the only remaining surfaces that an oil-based product still outperforms a latex. This has to do with product penetration in to the wood fibers.
All strippers, weathered wood renewers and wood brighteners that we use are bio degradable and will not harm plants, grass or the environment. At Top Dawg we care about the environment.
To wash strip and or stain a deck correctly, it takes a lot of knowledge, skill and expertise in the correct application of different products that are available today.
First we inspect the deck, has it been stained in the last couple of years? was it done correctly? If it is just weathered gray or silver wood, we wash it with a weathered wood renewer, sometimes multiple washes. This removes the old dead wood fibers from the surface, exposing good wood that will accept the coating and not just come off when someone walks on it a few times. We have specific procedures and products that we use to achieve this.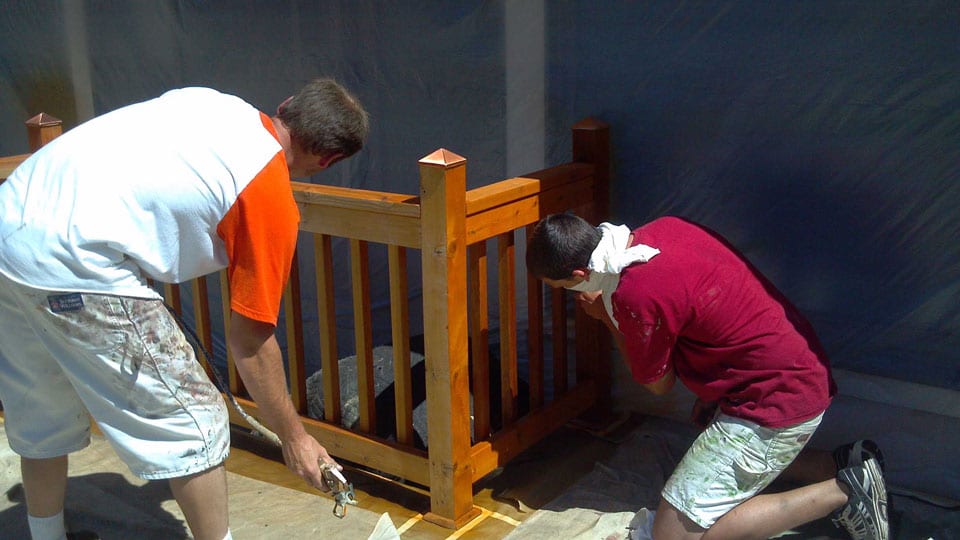 Using any wood renewers or strippers will darken the wood. After treatment, these products are washed off and a wood brightener is applied. This brightens or lightens the wood. If the deck is 5 to 10 years old we can usually achieve a deck that looks like it was just built. The general rule is the longer the wood has weathered the darker it will be after washing.
If the deck has been stained a few years before, chances are that some stain is completely worn off (walkways, high-traffic areas). In other areas it may still be in good shape (under cover or under a door mat). This can be challenging. Usually a stripper is needed to remove existing areas of remaining stain. Again multiple applications of stripper and rinsing are needed. The reason being is if the deck is stained over these spots, whereever stain is left it will sit on top of the wood and it will penetrate the wood where there is no stain. This will result in an uneven look and an unhappy customer.
Just straight pressure washing a deck with extreme high pressure is actually bad for the wood. This applies so much force to the wood it will seal the surface of the wood, thereby not allowing for proper penetration of the stain. At times we will use a combination of stripping and sanding the deck boards after they dry. Sometimes stripping the wood only gets so much old stain removed. At that point sanding becomes a viable option. We also use sanding to help even out weathered spots in older wood that people have chosen to stain with a light or clear color.
Once we have inspected, properly washed and stained a deck and or railings you can expect anywhere from 1 to 5 years life from the coating, depending on exposure to sun surrounding trees etc… The general rule is the darker the stain the longer life you will get from the coating (see maintenance coats below). Darker stains provide more uv protection from the sun. That being said there is nothing like a newly-stained deck with natural cedar tone color. They are just gorgeous (see pictures in portfolio).
Both the age of the wood and how it has been taken care of factor in to final results. You will get more life out of a darker stain than a clear or cedar tone color. Still, most people go with the cedar color because it is so beautiful when completed. We will apply sample colors on your deck after washing to help you make this decision. Daryl will consult with you on color selection and lifespans of coatings. You will then have to decide between longevity or more regular maintenance and a more beautiful looking deck. Some of the darker stains will help hide weathered looking and imperfections in the wood. They will provide a more uniform but still beautiful looking coatings.
Solid Color Decking Stains
Solid color stains or deck paint are now a very viable option for you walk on deck and railings. It used to be that solid stains would start to delaminate and peel off of the deck within 2 or so years. No longer, a high quality solid color decking stain is an excellent way to protect your deck. We do not recommend this for a new deck but rather one that has weathered and will not look good with a semi-transparent or a semi solid stain. New decks should be treated with a semi-transparent or semi solid for the natural wood look for the first 5- 10 years, then move to a solid after the see-through stains don't look uniform anymore.
The key to a long term solid coating is preparation. The deck needs to be washed and weathered wood renewer or woodwash applied, agitated, kept wet and repeated multiple times. After the deck dries out a good sanding with 60- 80 grit sandpaper to remove any old gray or weathered soft wood that will not hold the stain.A top quality solid color deck stain will make your deck look uniform and protect the wood for 2-4 years. Easy to maintain as it touches up better than a semi transparent.  So many things need to be considered with decks. What is the exposure value   ( how much sun is on it ) How close are the deck boards together, do fir needles clog up in between the boards. As with most decks they sit right out in the weather and get wet every time it rains. We live in one of the harshest climates for decks in the world. With them getting rained on 6-7 months a year, wet in the morning only to baked in the afternoon. We at Top Dawg painting can help guide you through the processes of taking care of your deck weather it is new or a weathered one.
Maintnance coatings
Once your deck is stained, down the road a couple of years, you can avoid the costly process of stripping a deck coating by maintaining the wood. Each year, or every other year, Top Dawg will inspect your deck. Once we see beginnings of wear to the coating, (1 to 2 years for clear or light colored stains and 2 to 3 years for medium to darker stains) we can lightly wash the coating with a specialized cleaner. This will open up pours in the existing coating, allowing for us to put on another coat effectively. This is much less work, and about half the cost of original deck staining.
This will give you extended coating life because you now have multiple coats on the wood for protection. You can expect 2/3rds to double the life of the coating on a maintenance coated procedure than you would with the original job. You may ask why not just double coat to begin with? If you were to double coat your deck with stain at the same time, it will peel. We must allow that original coating to weather at least 6 months before it is able to be washed and maintenance coated.
Bottom line, if you take care of your deck it will provide you with year after year of usage, beauty and enjoyment. With regular maintenance, deck wood can last 50 to 60 years or one's lifetime.
As you can see, this a complicated process. It took Daryl over 20 years of washing, staining and maintenance-coating decks to get get this figured out. I suspect I am still not done learning. As products change, because of new, more strict environmental laws and as products become better, I will learn with them.
Any paint thinner used to clean machines, brushes and rollers is always put in a container and recycled. We will never just pour out chemicals in your yard or on the ground. It costs us more to recycle old paint thinner than to buy it originally, so you can see at Top Dawg Painting we really do care about the environment.
Ready to get started with your deck? Contact us to get an estimate today.